Readers and writers  – we are changing the world everyday.
Recently I began to read a book, a harmless enough occupation, one that so many of us enjoy. This one happened to be non-fiction, a commentary on the current economic situation- it's research for the next book in my Arcadian series.
"Out of the Wreckage: A New Politics for an Age of Crisis" by George Monbiot. Verso,  2017. 
Then, on just the second page, was this amazing statement:
"The only thing that can displace a story is a story."
Monbiot is talking about the 'narratives' that are accepted economic ideologies, of changing the whole nature of our current economic system, and doing that by changing the stories we live by.
This is the power of story, the power we bring to life every time we read a book, or create a story. Stories, a simple collection of words, the placing of one word after another, are so much more than that.
It made me think of the many stories I've read, watched, and listened to that have changed who I am, just as they have changed so many others. Some in ways universally acknowledged – "To Kill a Mockingbird" by Harper Lee; "1984" by George Orwell; "2001, A Space Odyssey" by Arthur C Clarke( and Stanley Kubrick's amazing film).
But there are the many others, ones personal and ones that changed how many of us think about our place in the world, how we relate to others, why we do the things we do. In my case, influential books include:
The historical works of Dorothy Dunnett, who opened up a richness of language and culture, showed me worlds beyond my own and made me fall in love with the vibrancy, intellectual blossoming and the fine balancing between the cruel and the fabulous of the renaissance.
"Gone with the Wind" – with a heroine who refuses to be defeated and remains belligerently her own self – gutsy, brave, domineering, loyal, self-centered and pig-headed.
Isaac Asimov's science fiction, especially the Foundation series. World and society  building that showed me the status quo is not set in concrete.
Catherine Asaro's Skolian series – you can combine hard science and living people with real relationships.
Dune by Frank Herbert – The first book I read that used manipulation of a planet's ecosystem, and that was more world based science fiction than looking out to space. All of Robert Silverberg's huge output, especially the Majipoor books, had the same effect  – what different ways can a world, a society, people ( of whatever type) work together.
So go ahead and change the world – read or write a book today!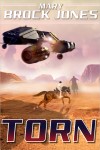 Torn by Mary Brock Jones.