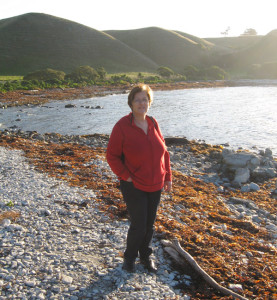 Mary Brock Jones lives in Auckland, New Zealand, but her childhood years in the stunning Otago region of the South Island live on in the romantic adventures of her heroes and heroines.
"When not office bound or being forced to see how much my four grown sons now tower over me, much to their endless amusement, I write historical romances and science fiction.
The romances stem from my early years in the southernmost parts of New Zealand, a land where history still marches alongside the farmers, stunning tourist vistas and entrepeneurial endeavours of the modern day. The love of historicals comes from the pages of great books such as those by Georgette Heyer, and Dorothy Dunnett.
The science fiction is also founded in those early years. The first landing on the moon is a vivid memory, even if it was in very shaky black and white.  Growing up on a fictional diet of Isaac Asimov, Robert Heinlein, Tolkien's Lord of the Rings", and any other SF or fantasy work available was tied to a fascination in the natural world. I was a farm raised child of the fifties and sixties, a time when science was going to make anything possible, and science fiction seemed readily close to fact in my imagination.
My parents introduced me to libraries and gave me the freedom to dream. Is it any wonder I became a writer?"