Hathe Books 1 &2 in exciting price discount
28 – 30 Nov
The holiday season is coming. One of the best things about this time of year – heaps of reading time! And just when you need it, here's a wonderful chance to stock up on some science fiction romance.  With over 40 e-books, all FREE or only 99c (USD)  for 3 days only  – 28 to 30 Nov, there's something for everyone, whether you already love this wonderful new genre or want to give it a try.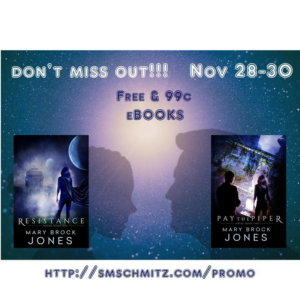 Best of all for me, this is a great chance for readers to try my two Hathe books – for only 99c for both!
Resistance: Hathe Book One – FREE
Pay the Piper: Hathe Book Two – 99c (USD)
Available on:
RESISTANCE
PAY THE PIPER
If you want to make sure you hear about exciting offers like this for my books and advance notice of my new releases, please sign up to my newsletter – see side panel.